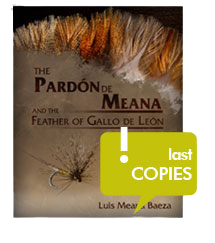 The Padrón de Meana and the feather of gallo de león
Ask about the last copies for collectors​
The "Pardón de Meana and the Feather of Gallo de León"
LIMITED EDITION DELUXE
"Pardón de Meana" Step by step procedure now available.
EVERYTHING YOU NEED TO KNOW ABOUT THE "GALLO DE LEÓN" FEATHERS
"The Pardón de Meana and the Feather of Gallo de León» is a pioneering international work, as it is the first work in English on these subjects. Its objective is to give you everything you need to know about the feather of "Gallo de León», which is possibly the best material in the world for tying of certain patterns of artificial flies. For the first time in fishing literature, we have in front of us the tables which define and identify each of the types of feathers and their qualities and characteristics, along with an in-depth study of all matters relating to the legendary Leon Roosters.
In addition, in these pages you have the opportunity to explore the history and the evolution of fly fishing in Spain, which is unique to this country.
Finally, this book will show, step by step, in extraordinary detail using macro photography, some of the major fly tying patterns based on the rooster feathers of Leon, among them «The Pardon of Meana", probably the best and most effective imitation of ephemeroptera; whatever the species, in their various stages of emerger, dun and spinner.
Visit www.pardondemeana.com
Make your purchase through the web
We have the last collector's copies available. Contact us using the following form and we will inform you how to obtain this unique piece.

Depending on the area, shipping costs may vary.. Do not forget to fill in the fields with your shipping address in either case.



(Free shipping on purchases of 4 or more copies

)

The purchase can be made by bank transfer, by filling in the form we will contact you and you will receive an e-mail with the bank account number and the necessary instructions.

(Free shipping on purchases of 4 or more copies)


(Free shipping on purchases of 4 or more copies)